A group of 37 men, aged 16 to 37, were found at St. John's College in Oxford. Testing of the remains have shown that the men had strong frames, were from different places, and had diets consisting in large part on seafood. This has lead some to believe that they were Viking raiders. The men were not given a formal burial, but were instead interred in a mass grave.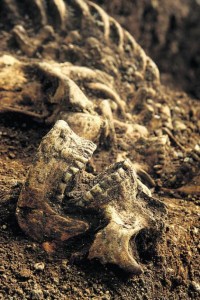 There are many hypotheses about the men's identities and deaths. Prof. Mark Pollard of Oxford University's School of Archaeology believes the men were caught and killed in retaliation for the St. Brice's Day Massacre. The massacre, ordered by King Æthelred the Unready on 13 Nov 1002, sought to eradicate all Danes from England. Carl Falys of the Thames Valley Archaeological Services, claimed that the men appear to have been attacked from all sides. Tom Hassell, former director of Oxford Archaeology suggested that the men may have been killed following the massacre, when Oxford was attacked in revenge.
The Danish king, Sweyn Forkbeard, took Oxford in 1009. The remains may have been part of that conflict as well.
"Oxford Viking massacre revealed by skeleton find", BBC News, 12 Aug 2011
"There's no bones about THIS history", Oxford Mail, 04 Apr 2013
"St. Brice's Day massacre", Wikipedia